---

---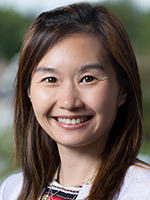 Anne immigrated from Taiwan to British Columbia as a child and has lived in Burnaby for over 30 years. Anne's motto is "Turning Passion in Action". She is passionate to helping build a sense of community and belonging for people of BC. Ever since she was a youth, she has participated in various volunteering projects to help make her new home a stronger and more vibrant community.
As a fervor life-long learner, she completed her post-secondary education at the University of British Columbia, receiving a Bachelor of Music, a Bachelor of Education (Elementary), and Diploma in Special Education (Learning Disability). Anne has received a Master's Degree in Special Education (Gifted and Creative Learning) and completed two levels of Montessori Certification. She continually strives to further her education to support her current endeavors, obtaining certificates in Sustainable Business Strategy from Harvard University, and certificates in Change Leadership, and Financial Accounting, both from Cornell University.
Before entering public office, Anne taught in the Burnaby Public School System, specializing in music education. Her continuous interest and drive towards providing tailored support to diverse communities led Anne to run for public office in 2008 as a Burnaby City Councillor. She won re-election twice, serving as Councillor for a total of three terms. During this time, Anne advocated on behalf of Burnaby citizens as the Council Liaison for Public Library Board, Council Liaison for Parks, Culture, and Recreation, Chair of the Environment Committee, Member of the Public Safety Committee, and Council Member for Youth Liaisons.
Anne's ongoing dedication for the community directed her to run as the Member of the Legislative Assembly for Burnaby-Deer Lake and was elected in 2017 and re-elected in 2020. She has served as the Parliamentary Secretary for Seniors, Parliamentary Secretary for Multiculturalism, Minister of Citizens' Services and Minister of Advanced Education, Skills, and Training. In 2022, she was appointed as Minister of Municipal Affairs. Recognizing her achievements in community building, Anne was awarded the Queen Elizabeth II's Diamond Jubilee Medal in 2012 for Anne's significant contributions to Canada.
Anne lives and works in Burnaby and is very proud of her two children, who attends school in Burnaby. She is passionate about gardening and dogs. Anne is always on the lookout for beautiful gardens or the cutest one around during her daily walks in the community.